Fun at the Center for Astrophysics
January 15th, 2007
One of the major objectives of Harvard's new Origins-of-Life Initiative is to build a community of scientists who can draw on each other's expertise to figure out how life started. This approach makes a lot of sense when you consider the interdisciplinary nature of the problem. I really enjoy the collegiality that the new program has offered; it's quite refreshing. In our department (chemistry and chemical biology), each research group essentially exists on its own island. The chemistry professors at Harvard seldom collaborate with each other on research projects, and inter-group interaction is uncommon. We don't have departmental problem sessions, organized chats about science, or student colloquia.
In contrast, the Origins program not only offers a full schedule of seminars, but also a number of informal "chalk talks" where incomplete research is presented and discussed among the students and professors who show up. The newest feature of the program is a series of "lab visits," where everyone tours the laboratory of one of the other researchers in the program. Last month, we took a walk up Garden Street to Observatory Hill and the Harvard-Smithsonian Center for Astrophysics.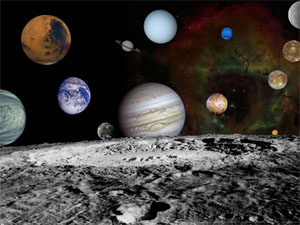 Most of the origin-of-life projects in astrophysics concern hunting for planets around distant stars. About 200 exoplanets have been discovered, and there's a good possibility that their composition can be studied spectroscopically. The researchers are especially interested in finding Earth-like planets and signs of distant life. Right now, the limitations of their techniques make it very difficult to find any planets other than large ones that are close to their stars (so-called "Hot Jupiters"). It's interesting stuff.
What amazed me about the visit was how astrophysicists have a completely different culture from chemists. The first thing that struck me was that although grad students had advisors, the student offices were located in a central building instead of in the research labs. I got the sense that the students had their own vibrant community in addition to their individual labs, which has definite advantages. It is always nice to have a diverse set of acquaintances who are willing to engage you in scientific discussions. When you spend all day in one research lab, you are often surrounded by people who are experts in the same area and think alike.
Much like chemists get classified into organic and physical, the astrophysicists divide themselves into observers, theoreticians, and instrumentalists. The observers' research is mostly limited by the time they can reserve on the best telescopes. Getting telescope time is a highly-competitive process: only 1-in-4 proposals are allocated time on NASA's land telescopes. That number shrinks to 1-in-7 for the telescopes in space. Some schools even sponsor telescopes so that their faculty will have priority on them.
Because resources are tight and government instrumentation is used to collect the data, NASA lights a fire under the butts of the observers by opening the data they requested to the general public a year after it is collected. That means you have a limited period of time to find something interesting before any nerd with an Internet connection can scoop you.
I love the openness of their system. There is no comparison in organic chemistry, where despite the fact that most of our research is funded with taxpayer money, we generally resist sharing our data with anyone until it is published. And once published, some people are still unwilling to grant outsiders' requests for help or data. Would you be willing to scan your lab notebooks and post them online?
Finally, I thought I'd share one interesting piece of scuttlebutt from the astronomical community. The word on the street is that the slated "Return to the Moon" is not very popular among scientists and stands a reasonable chance of getting scrubbed if the Dems take back the White House in 2008. So if you we're looking for one, that's another reason to vote donkey in the next election.
Previous Comments