Chemical Villain of 2006: Dalibor Sames
January 1st, 2007
After thorough examination, the Chemmy "Award" for Villain of the Year goes to:
Prof. Dr. Dalibor Sames for the Columbia C-H Activation Fiasco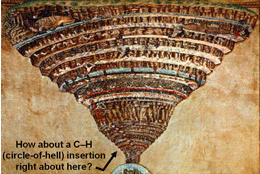 The sad part of this post is not that Sames won, but that there were other legitimate contenders. The strongest cases could be made for Dalibor Sames, Bengu Sezen, and JJ La Clair. Some people might have also thrown R&D at Pfizer into the mix for ruining our stock portfolios, but that's not really fair. The fact of the matter is that the system seems to have worked in the case of Torcetrapib—the drug's danger was discovered in clinical trials and the project died. That's life.
So, why not La Clair? Any other year he probably would have won, but in the end: 1) the hexacyclinol story was not as disgusting as the Columbia case, and 2) hexacyclinol has locked up the Chemmy in a different category.
The decision between Sames and Sezen was a tough call. If Columbia's investigation shows that Dr. Ms. Dr. Sezen did naughty things with her data, you can bet that she'll will run away with the Chemmy next year. For now—as is the custom in academia—the advisor takes home the award.
And I really think that Sames deserves it. Let's review his credentials:
1. He retracted six papers and a significant part of a seventh. What chemist (besides Sezen) has ever had to do anything like this?
1a. If you think that Sames might be an "innocent victim," please refer to Columbia's policy on professional misconduct:
In modern collaborative research, the implications of academic misconduct or fraud go far beyond the individual; they also affect collaborators whose own work has been committed to objective search for truth. The specter of guilt by association may lurk in the background for many years to come. Therefore, joint authorship requires joint responsibility; each author claiming credit for the entire work must also be aware of joint discredit. Investigators in collaborative research projects each must make reasonable and periodic inquiry as to the integrity of and processes involved in gathering and evaluating data. It should be understood that overall responsibility for the integrity of collaborative research rests with the principal investigator. Senior investigators cannot be allowed to escape the consequences of the discovery of misconduct or fraud committed under their supervision.
2. The first round of retractions submitted by Sames had Sezen's name on them without her approval or any indication that he was acting without her consent. (Note that JACS changed the wording of these retractions after publishing them—without making note of the edits).
3. While it has yet to be confirmed by Columbia, a lot of people have said that one or more students were essentially encouraged to leave (a.k.a. fired from) the Sames Lab for incompetence, at least in part because they could not reproduce the results that were eventually retracted. If someone in your lab raised questions about the reproducibility of an experiment, wouldn't you feel obligated to check the procedure out for yourself? It's not like Sames was that far removed from bench work; he easily could have run these reactions. Doing so probably would have prevented a lot of the subsequent mess.
4. When it became clear that something was wrong, Sames waited at least six months before publishing the retractions. Why did he wait if it wasn't for her approval? Taking so much time was inconsiderate, as other chemists in the area of C-H activation wasted time trying to use Sames' reactions (for example: Bellina, et al. Eur. J. Org. Chem. 2006, 1379).
5. Sames has publicly blamed Sezen in a variety of ways, such as in his wording of the retractions, in statements to news organizations, and by removing her from his lab's Web page. While he was willing to fire these shots at her, when the press came calling to question him, he threw up his hands up and claimed that he's not allowed to comment on the case due to the ongoing investigation. Either talk or shut up. Pick one. To do otherwise is unfair and cowardly.
There's more, as you know, but you can use Google to refresh your memory. And if anyone thinks that this wasn't a significant story, feel free to go crying to the editors of C&EN, Science, Nature, and the NY Times, too. The story is legitimate and newsworthy. If you don't want to hear people talk about it, go somewhere else.
In fact, given the gravity of this particular story, I think we should consider including an actual prize with the Chemmy. Perhaps we can put Ed the Dog in charge of raising funds for an all-expenses-paid trip to Circle 8, Bolgia 8.
Who's willing to chip in?
Previous Comments