Announcing the 2006 Chemmy Awards
December 18th, 2006
The First Annual Chemmy Awards will be announced here on ChemBark at a special ceremony on Boxing Day.  To supplement our undisclosed nominees, please use the comments to submit nominations in the following categories: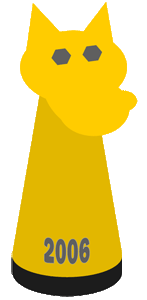 Best Organic Paper/Achievement
Best Physical Paper/Achievement
Best Inorganic Paper/Achievement
Best Biological Paper/Achievement
News Story of the Year
Comeback of the Year
Molecule of the Year
Villain of the Year
Worst Accident
Outstanding Academic Department
Good Citizenship Award
Lifetime Achievement Award
People interested in voting for the Best Chemistry Blog of the Year should visit Mitch at ChemicalForums.  My vote goes to Tenderbutton, even though it's dead.  I also hope that Paul at TotallySynthetic is going to post a poll for Total Synthesis of the Year, but I've got no idea who should win that one.
Previous Comments