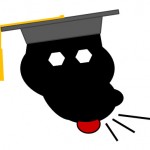 It's fall semester at SLU, and I'm teaching organic chemistry for our majors once again. Last year, I was focused on just getting through the course. I was so consumed by producing slides, homework assignments, practice exams, and real exams on a tight schedule that I didn't get to think hard about the finer points of design until the class was over. Now, on the second pass, I can focus on making improvements rather than creating everything from scratch.
At SLU, instructors don't get assigned TAs for proctoring and grading unless the class has greater than 30 students. In the spring, the majors' class fell below this number and I had to think about designing exams to make grading as efficient as possible without eroding their effectiveness as tools for teaching and thoughtful evaluation. The system I settled on was different from my experience in both college and grad school, so I thought I'd share.
I've settled into a system in which quizzes and exams generally have four or five sections/problems picked from the following varieties: multiple choice, mechanism, synthesis, A+B reactions, explanations, and calculations. While I've never been a huge fan of multiple choice, it allows me to test a variety of straightforward points without the strain of having to grade a wide assortment of free-response questions. My multiple-choice questions are typically five choices, with students getting +5 points for a correct response and +2 points for leaving a question intentionally blank. This scoring system introduces a penalty for guessing; students need to recognize that sometimes the best option in life is to admit "I don't know."
In my system, if there is an exam on Wednesday, the students have a quiz due on the previous Friday that covers the same material. Each quiz contributes 2% to the final grade in the course, while each exam contributes 20%. The quiz has the same length, format, and answer sheet as the exam, except the problems are harder to compensate for the fact that I give students 48 hours for the quiz and allow them to talk with each other about the answers. I like how this approach requires the class to be familiar with the exam material almost a full week before the exam, and that students have an incentive to form study groups and debate answers to hard problems. I never learned as much in organic chemistry as when I was trying to defend my proposed answers to classmates. Finally, having what is essentially a hard practice exam due on the Friday before the "real" exam means that I can return it graded and marked with comments by Monday. In many cases, these quizzes serve as wake-up calls to students while there is still time to fix issues that need attention.
In every chemistry class I've taken, students either wrote their exam answers directly on the problem booklet or in small blue exam books. I find these response media are murder to grade because you spend so much time flipping through pages, hunting for answers, and flipping back to write the subtotal for that problem on the cover page. And, of course, there are always two or three students who get creative and write their answers out of order or on the back side of pages.
To solve this problem, I started writing exams such that students have to place all of their answers on a single letter-sized piece of paper. I draft an answer sheet for each exam on which it is clear where each answer should be written. When the answer is a single word or structure, I'll typically draw a box for it. The use of a single sheet minimizes the burden of flipping, while the answer boxes (located at the same spot for every student) minimize the burden of hunting. Here's a sample answer sheet typical of one of my orgo exams: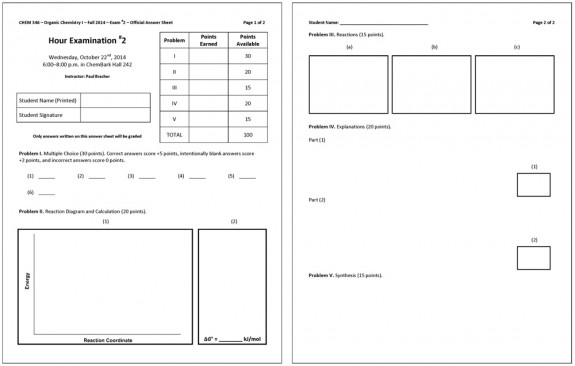 I copy answer sheets onto 65-lb. card stock so that both sides of the sheet can be used without the pen ink bleeding through to the other side. I find that the smooth sheets sold under the Neenah brand are better than sheets of the less expensive Staples brand, which have an annoying coarse texture on one side. The card stock also gives a regal quality to the answer sheets. These puppies are suitable for framing and will withstand decades of wear if pinned to the refrigerator door of a proud parent.
Another nice thing about having students limit their answers to a single sheet is that the entire stack for the class can be scanned without hassle. Most modern office copiers are capable of sheet-feed scanning, so if your exams have no staples, you can scan the entire stack of paper all at once and e-mail the data to yourself as a single PDF. What a wonderful miracle of technology.
I scan the entire set of answer sheets both before and after I've graded them. In doing so, I have a permanent record of performance that I can access for eternity. If there is an issue over improper grading or a student attempting to cheat by altering answers upon return of the graded copy, I can refer to the electronic file. If a student needs a letter of recommendation two years down the road, I can open up the file and make specific comments about his/her performance. And if I want to mine data in the future for some pedagogical purpose or project, all of the data will be available for analysis.
A final important feature of each answer sheet is that I have a line for students to write their names at the top of the back side. This makes returning exams very simple, because I can fan them in columns in alphabetical order on a table and have students come in groups to pick them up. With only the top inch of the back page of each sheet exposed, students cannot see each other's grades. Of course, as the columns thin out, I adjust the sheets to prevent greater exposure.
As I discussed before, I allow students to bring handwritten notes into exams. They serve to emphasize that organic chemistry is about analysis—not memorization. Also, having students organize the information of each unit onto a single sheet of paper forces them to make connections about the material in their minds ahead of the exam. This semester, I've started collecting, scanning, and returning these note sheets as well. I am fascinated at how students organize their thoughts, and I plan to use this information in my future letters of recommendation when appropriate. How an individual organizes her thoughts on paper gives you an interesting window into her mind.
So, that's the system. Are there drawbacks? Yes. I tend not to write long mechanisms or synthesis problems that go over four steps, because there isn't enough space to do so. With that said, I'm not sure if these problems offer much added benefit relative to alternatives with more concise answers.
One thing that I've found surprising is that even though the answers for the exam all fit on one page, there are students who still feel they need three hours to finish. I thought that offering four shorter exams instead of three longer ones would make time a non-factor, but often at the end of two hours, I still find myself nagging for all of the papers to be turned in.
Anyway, I like how this system works and will continue to modify it to work better for both the students and me. It is ironic that as a teacher, I feel that I am the one in the classroom who has the most to learn.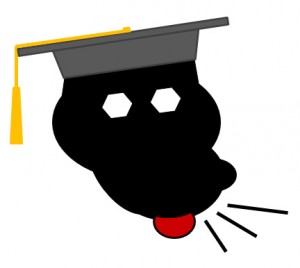 Our department is running its first tenure-track faculty search since I was hired last year, so it is my first chance to get a behind-the-scenes view of the process from the other side. Having experienced the joy and frustration of dealing with the academic job market from the side of an applicant, I figured our search is a good opportunity to pull back the curtain on what would otherwise be an opaque process. At the same time, such a post could be used to broadcast our position to as wide an audience as possible. That's a win–win, baby.
You may have seen our official announcement, which ran in the August 18th edition of C&EN:
Saint Louis University, a Catholic Jesuit institution dedicated to student learning, research, health care, and service seeks applicants for a Tenure-Track Assistant Professor in Chemistry starting Fall 2015. A Ph.D. is required and post-doctoral experience is preferred. Successful candidates will develop an independent research program and be committed to excellence in undergraduate and graduate teaching in the areas of both organic chemistry and biochemistry. Successful applicants will have an expertise in bioorganic chemistry, chemical biology or organic chemistry. The Department offers BA/BS degrees in chemistry and biochemistry and MS and PhD degrees in chemistry. Review of applications begins October 15th and will continue until the position is filled. All applications must be made online at https://jobs.slu.edu; also send CV, research plans, teaching philosophy, transcripts, and 3 reference letters to: chemsearch@slu.edu. Saint Louis University is an affirmative action, equal opportunity employer, and encourages nominations and applications of women and underrepresented minorities.
These adverts have always struck me as stuffy, vague, and minimally informative, and ours is no exception. There are actually a couple of reasons for the brevity and stuffiness. First, magazines like C&EN charge handsomely per line—over $1 per character, with a $650 minimum—so you generally want these ads to be concise. Second, all of these announcements have to get cleared by the administration, and HR demands that certain information be included in any job posting. After placement of that information, there is little space for elaboration—just the basic facts.
So, allow me to read between the lines by providing some context and background about our posting. Our department began offering a biochemistry degree a few years ago, and it has become very popular. So popular that it is putting strain on the teaching assignments for our department. We need more professors able to teach biochemistry, and just as importantly, able to provide research opportunities for these majors. Bolstering our biological side will also allow us to offer more graduate courses in this area, which now is essentially impossible due to the scheduling demands of the undergraduate curriculum.
At the same time, the departure of one professor and the promotion of another into an administrative position have created a strain on the organic faculty. As far as organic goes, we offer a sophomore sequence for majors (with ~35 students), a sophomore sequence for non-majors (with ~250 students), a single-semester course for nursing students, an advanced course on organic spectroscopy, and usually two graduate organic courses each year (e.g., synthesis, physical organic, and medicinal). As a result, we are hoping that we can find a candidate who can not only teach biochemistry, but who also has the flexibility to teach organic.
So, that is what we mean when we say "committed to excellence in undergraduate and graduate teaching in the areas of both organic chemistry and biochemistry". You have probably heard that many candidates get rejected from academic searches not because they lack talent, but because they do not fit the department's current needs. We are undoubtedly going to be doling out some of those rejections, because we mean it when we say we want to hire someone with expertise in both biochemistry and organic chemistry. We are not simply throwing out these terms to try to cast as wide a net as possible. If you are strongly physical-organic (with no focus on a biological problem), it's probably not going to work out. But if bioorganic chemistry is your bag, please apply! And the rest of you should be pals and tell your bioorganic/chembio friends about our listing.
The terseness of these job advertisements also prevents our providing more information about the school and our department. The advertisement says that we are a Catholic, Jesuit institution, and I imagine this could lead many applicants to develop preconceptions about the way things work at SLU. Having been here a year, I'd say that the Jesuit influence has more of an effect on the model the college uses for education (e.g., a broad core program weighed towards courses in philosophy and theology) rather than any particular influence on our department. When I was applying, I was concerned that my proposed research on origin-of-life chemistry would disqualify me due to conflict with Catholic beliefs. Obviously, it did not—I was hired—and I have encountered absolutely zero resistance with regard to this issue.
The school is governed by a board of trustees with a layperson majority. In fact, the school itself has argued (in public court records) that it is not a religious institution. The Missouri Supreme Court agreed, stating "The university is not a religious institution simply because it is affiliated with the Jesuits or the Roman Catholic Church. A university's motivation or aspiration to follow certain teachings does not indicate that it is 'controlled by a religious creed' such that religion dictates the corporate management of the university." While the university takes great pride in its Catholic heritage and affiliation, it does not dominate the politics of the school or our department.
As far as our department goes, it reminds me of the chemistry department at NYU when I was an undergraduate. When I was at NYU, the graduate program was small-to-medium-sized and undergrads were given a lot of leeway in research. At SLU, we have 13 research faculty and we matriculate about 10 new graduate students each year. The most active labs have about 3-6 graduate students each—a very manageable size. This is also an exciting time for the department. We are converting the building adjacent to ours into laboratories, and we will expand into that space in March. Furthermore, the school just inaugurated a new president and we are set to have a major capital campaign to mark our bicentennial in 2018.
As far as people go, the faculty here gets along better than at any other department I've seen. I believe that most of the votes we've had in faculty meeting during my time here have been unanimous decisions. The graduate students get along with each other, and there is a lot of interaction among groups. This completely contradicts my experience in graduate school, where research groups were massive, faculty were absent for long stretches of time, professors talked incredible smack about each other behind their backs, and each lab was essentially its own island. While such a work environment is tolerable as a graduate student for a limited amount of time, I think my general preference is for something a little less caustic. Of course, the tradeoff is that we lack the resources of a powerhouse department. We have one NMR instrument, not nine. We have two administrative assistants for the department, whereas my graduate advisor had four just for himself.
But I like the balance of SLU. Balance in terms of size—we have a Ph.D. program, but not one so big that you lose touch of students or the lab. Balance in terms of effort—both research and teaching are valued. Balance in terms of students—both undergraduate and graduate students make meaningful contributions to research. Balance in terms of location—St. Louis is a medium-sized Metro area with plenty of culture, but not a megalopolis with an overwhelming cost of living.
And, that's the whole story, more or less. It is not something any applicant would be expected to glean from our advert alone, but that's how the system works. I am sure there are similar stories for many other departments who are looking to fill a specific need. While the information may trickle out in the form of personal communication and gossip, social media and the Internet allow free publication of the complete story. And, as longtime readers will know, that is one of the big reasons I love blogs: because they democratize information, making it accessible to everyone instead of people in the Old Boys' Club who are in the know.
If you think you'd be a good fit for our department, please apply! If you think your labmate would be a good fit, tell her about our opening! And if you have any questions, please don't hesitate to ask.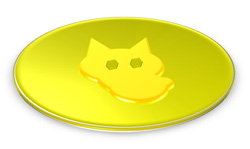 Wow, is the announcement really in five hours? Then I guess it is time to post my predictions and official list of odds against winning the 2014 Nobel Prize in Chemistry. Incidentally, this is what has become of my life—a never-ending series of nearly missed deadlines. If I get tenure, you can expect my yearly odds to get posted sometime in November, which will also ensure my picks are more accurate.
As is the custom, the candidates are sorted below by discovery/invention rather than by scientist. The treatment of candidate scientists can get complicated. Some are listed more than once. In cases where someone not listed could easily share in the prize for the associated discovery, a "+" is listed. In cases where one of the scientists listed could easily not share in that prize, a "–" is listed.  The odds are reported in "odds against" format. Remember, this list attempts to address who will win the prize this year, not who should win the prize.
Odds Against Winning the 2014 Nobel Prize in Chemistry

Single-Molecule Spectroscopy

& Application of Lasers,

Moerner

/Orrit/Zare/–, 7-1
Bioinorganic Chemistry, Gray/Lippard/Holm/–, 9-1
Nuclear Hormone Signaling, Chambon/Evans/O'Malley/–, 14-1
Lithium-Ion Batteries, Goodenough, 15-1
The Field (everything not listed), 16-1
Techniques in DNA Synthesis, Caruthers/Hood/+, 19-1
Electrochemistry/Electron Transfer, Bard/Hush/Gray/–, 24-1
Protein Folding, Hartl/Horwich/+, 24-1
Polymer Science, Matyjaszewski/Rizzardo/+/– 24-1
Unfolded Protein Response, Mori/Walter, 29-1
Organic Electronics, Tang/+, 34-1
Instrumentation/Techniques in Genomics, Venter/+, 49-1
Molecular Studies of Gene Recognition, Ptashne, 49-1
Transmission Electron Aberration-Corrected Microscopy, Haider/Rose/Urban, 74-1
Chemically-Amplified Photoresists, Frechet/Willson, 74-1
Development of the Birth Control Pill, Djerassi, 74-1
Drug Delivery/Tissue Engineering, Langer/+, 99-1
Mechanistic Enzymology, Walsh/Stubbe/+/–, 99-1
Solar Cells, Grätzel/+, 99-1
Nanotechnology, Lieber/Whitesides/Alivisatos/Mirkin/Seeman/+/–, 99-1
Applications of NMR Spectroscopy, Waugh/Pines/Roberts/McConnell/+/–, 99-1
Synthetic Biology, Elowitz/Leibler/Collins/+/–, 99-1
Protein Engineering, Arnold/+/–, 149-1
Development of Chemical Biology, Schultz/Schreiber/+, 149-1
Click Chemistry, Sharpless/+, 149-1
Quantum Dots, Brus/+, 149-1
Self-Assembly, Whitesides/Nuzzo/Stang/–, 149-1
Pigments of Life, Battersby/+, 149-1
DNA Methylation, Cedar/Razin/+, 149-1
Small Regulatory RNA, Ambros/Baulcombe/Ruvkun, 149-1
Eukaryotic RNA Polymerases, Roeder, 149-1
Contributions to Theoretical Physical Chemistry, Rice/+, 149-1
Metal-Organic Frameworks, Yaghi/Ferey/Kitagawa/+/–, 149-1
Bio- & Organo-catalysis, List/Lerner/Barbas/+/–, 149-1
Alternative Nucleic Acid Motifs, Rich/+, 149-1
Hydrogen Maser, Kleppner/+, 149-1
Assorted Protein Work, Levitzki/Hunter/+, 149-1
Novel Cancer Therapeutics, Ullrich/+, 149-1
Combinatorial Chemistry/DOS, Schreiber/+, 199-1
Leptin, Coleman/Friedman/Leong, 199-1
Zeolites, Flanigan/+, 199-1
Fluorocarbons, DuPont/Curran/–, 199-1
Dendrimers, Frechet/Tomalia/+, 199-1
Organic Synthesis, Evans/Danishefsky/Nicolaou/Ley/Trost/Stork/Wender/Kishi/+/–, 249-1
Mechanical Bonds and Applications, Sauvage/Stoddart/+, 299-1
Contributions to Bioorganic Chemistry, Breslow/Eschenmoser/+, 299-1
DNA Electrochemistry, Barton, 299-1
Understanding of Organic Stereochemistry, Mislow, 399-1
Molecular Machines, Stoddart/Tour/+/–, 499-1
Molecular Recognition, Dervan/+, 999-1
Astrochemistry, Oka, 999-1

Notes

1. This rundown is meant to approximate fair odds (without a built-in vig). In case you don't know how this way of reporting odds works, the listed numbers ("m-n") mean the associated entry has an expected probabilty to win of n/(m+n). Thus, 4-1 odds equates to a 20% expectation of winning. If your pick wins at 4-1 and you've bet $1, you get paid $5 ($4 + your $1 bet back) minus the house's vig.

2. I'm not taking any wagers.

3. The (qualitative) criteria that went into assigning these odds were discussed in a previous post. Results from old predictions were also discussed in a previous post.

4. Let me know if anyone on this list is dead. (It's important, because awards are not made posthumously.)

5. Last year's prize went to Karplus, Levitt, and Warshel for their computational work in modeling. Perhaps the most interesting aspect of the prize was that it is the closest the Nobel Committee has come to giving a lifetime achievement award (to Karplus) in a long time. Usually, the committee recognizes the work around a single discovery or development, so scientists with fantastic, broad bodies of work often fail to be recognized vis-à-vis scientists with a single, major, fundamental discovery. It is almost as if discoveries win the prize rather than scientists. But after last year, I think there is much more hope for scientists like Whitesides, Gray, Langer, Walsh, and others with fantastic total bodies of work.

6. I still think it's too early for any nanotechnology prize to an academic. What is the crowning achievement of this field? I also still think it is too early for a solar energy prize (e.g., for DSSCs). The winners of this prize will be the scientists who solve the world's consumable energy problem, or at least make a solid dent in it.

7. Pre-Nobels awarded in the last year. Kazutoshi Mori and Peter Walter won the 2014 Lasker Award in Basic Research for their work on the unfolded protein response. This must be treated as a serious contender for the Nobel in Chemistry. Chi-Huey Wong won the 2014 Wolf Prize in chemistry for his work in carbohydrate chemistry, but the lack of a single standout discovery probably hurts his chances for a Nobel. There was no Wolf Prize in Physics awarded this year, and the 2015 Priestley Medalist is Jackie Barton. I've added Barton to the list.

8. The last five prizes have gone theoretical/computational, biological (GPCRs), physical/materials (quasicrystals), organic (organopalladium chemistry), and biological (ribosome). It has still been a long time since something distinctly inorganic won, unless you are going to count organopalladium (2010) or Grubbs/Schrock (2005). Perhaps inorganic is due?

9. A quick look at the 2014 Nobel Committee reveals somewhat of a physical slant, in my opinion. I think that could possibly bode well for the laser people.

10. And it's the single-molecule spectroscopy / laser people who I'm officially picking. I think this is an inevitable prize, so why the heck shouldn't I keep picking it until it wins? On the flip side, last year's prize was computational/physical, so maybe the Committee would try to mix it up?

La cucaracha, la cucaracha,
Ya no puede caminar…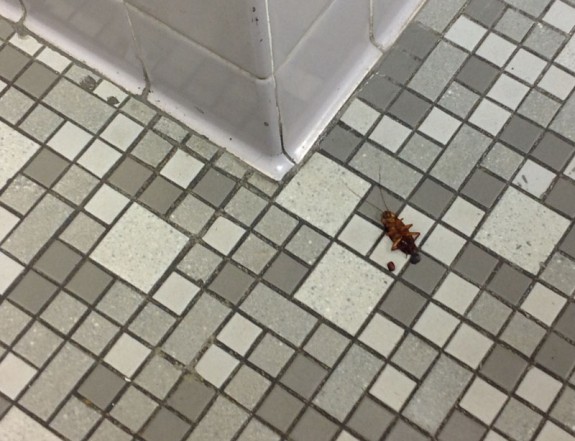 I stumbled upon this lovely scene in the men's room by my lab last night.
At some point in every single laboratory I've ever worked, I've encountered a dead cockroach lying flat on its back. Without exception, my first thought is always:
What horribly toxic substance has this poor creature encountered to cause her
to die alone and out in the open like this?
After a few seconds of thoughtful reflection, I usually convince myself the cockroach died of natural causes and we are all safe. In other news, I wish I could say that I've never seen a labmate do this:
Fortunately, I haven't had the excitement of seeing a live one racing around the floor in a long time.